Testimonials
Thank you to Andrea Hollings and the team at Calida Homes. The smiles say it all - thank you so much for your friendly, supportive and professional approach. Some work to do but we are sure it won't be long before we have our place in the sun exactly as we want it. Looking forward to relaxing in the sunshine enjoying the stunning views, particularly those dramatic sunsets
Walking football in Almeria

Live locally or in Mojacar, Los Gallardos, Vera and interested in walking football then why not get in touch with the Calida Homes sponsored team. FC los Amigos. Pop along to the Los Gallardos football pitch and see what it´s all about. A fantastic very sociable sport actively played by the over 50´s. A great way to get in shape , meet new pals and with many great spin off social events to boot. Get in touch with the team via their website https://www.fclosamigos.com/news-events/ and see why this has become such a universally popular sport.
Steve Lane and Kim Drale October 2017
We recently completed a villa purchase through Calida Homes. Andrea and her team were incredibly helpful in guiding us through the process. Andrea personally gave us as much time as we needed driving us to see a number of properties over the course of three days before finding our dream home .
Andrea always responded immediately to any emails or phone calls and made the whole process smooth and worry free. I would highly recommend Calida Homes to anyone looking for superb service and a great selection of property .
Steve Lane and Kim Drake
October 2017
Patrick Van de Cruyce
I have a Taxi Company on territory Koksijde.And am quite a while looking for a stay on the Spanish coast.In October 2012 I decided to take a flight to Almeria.Since I had an appointment with Calidas Home Property.Calida Homes Andrea picked me up from my Hotel in Vera PlayaTo visit a few apartments on the coast.Andrea is a very pleasant person that is fully dedicated to her job.The next day I went back with Andrea to visit a few houses inland.
On reflection I liked this location much better and I opted fora beautiful villa in the mountains with private pool in Arboleas.Calidas Home with their team and lawyer Lucas have all the paperwork in order.So that I could draw the deed by early 2013 at the Spanish notary.Home is a must for those who Calidas Proprety Zachariah is looking for a Spanish stay.Andrea and Richard I want to thank you again for all you did for me.
Christelle, Marc, Fanny and Olivier
We want you to share our experience because we bought a villa near Albox through Calida Homes with very good tracking of Andrea.
Andrea helped us during this first purchase in Spain byvisiting the villa but also giving us the name of a legaladviser who oversaw our transaction.
We bought two couples and we are unanimous in welcoming the seriousness of these two partners.
The transaction lasted for nearly a year because thesituation of the villa and the situation of the vendors was complicated but at no time we n have panickeddespite the fact we had paid a deposit because we werein permanent contact and pro actively Andrea and ourlegal adviser.
You can trust and like us, you will be the owner in Spain.In addition, you can always ask your questions toAndrea on all kinds of subjects and she alwaysresponds with pleasure. It's also part of the very goodservice of this agency.
Steve and Maureen Barratt
After Steven having a heart attack 3 years ago we decided life is too short and to fulfil our lifelong dream of owning a property in Spain.
We cannot recommend Andrea and her team at Calida Homes enough for their help and support during this process.
We travelled out to Almeria on quite a few occasions and viewed a lot of properties before finally finding our dream home.
Andrea had the patience of a saint with us and did everything she could to ensure that we finally found the right property at the right price, she really worked hard and went above and beyond for us.
We now finally have our dream holiday home in Arbeloas which is more than we could have ever imagined, we are over the moon and cannot wait to spend lots of fantastic holidays out here with our family and especially our four beautiful grandsons.
Thank you so much Andrea you really did a great job and we hope to see you out in Arbeloas soon!!
Steve & Maureen
Jim Angeloff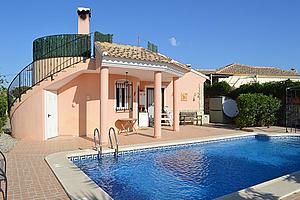 After many months of research on the Internet we constantly became drawn to the Calida Properties website mainly due to it being very easy to navigate, intuitive and had sufficient written detail, photographs as well as video 'walk-through's that simply whetted our appetite's.
We made our selection and I remember emailing Calida with a list of properties that we would like to view that was as long as your arm.
Conversing by email to Richard, Louise, Andrea and Summer developed into a conversation on the telephone and on advice from Louise, the arms-length list was reduced to a list of 9 properties based on her expertise and knowledge of the properties they were selling and the area as well as their proximity to our list of needs when it came to shops, bank and bars.
We booked our first ever flight to mainland Spain and arrived in Roquetas de Mar for both a holiday and a viewing opportunity. On Tuesday we drove an hour north to Arboleas where we were met by this great guy called Richard. We knew instantly who he was by his voice, as he also does some of the commentary on the on-line videos.
Ever smiling and ever so friendly, Richard had mapped out our day and drove us to every property on our list. To his credit Richard provide us with extremely valuable information on property, location, costs, bars, restaurants and 'filled-in' the gaps to provide a genuine and realistic flavour for the local area and community. He even fed us at lunchtime when we visited Azabache restaurant.
At the end of the week we went back to England, a little confused by the variation we had seen and trying to absorb all the information. You can imagine our dilemma as we loved everything.
Over the next two weeks after returning to England, we kept going onto the website as we were constantly drawn to one particular property which we christened 'The Pink One'.
I emailed Richard, without my wife knowing. I think Richard was pleasantly surprised to hear from me, as I think maybe he thought we were not coming back! I enquired if the 'pink one' was still for sale…..It was…..so I let my wife know and we made an offer.
Richard was brilliant. He negotiated us through the purchase and secured an agreement with the seller. Calida Properties even recommended a list of Spanish solicitors that spoke English that we could ask to undertake the conveyance on our behalf.
We arrived a second time in Arboleas, but this time we stayed at Hotel Meson Arboleas. We were looked after very well indeed by the hotel and staff.
Once again Richard was a gem. He collected us from the hotel, drove us to the solicitors in Albox and managed us through everything, even to the point of opening our bank account on our behalf at the Cajamar Bank in Arboleas.
During the second week, Richard provided us with a second opportunity to visit the villa and gave of his time freely, offering support, encouragement and friendly advice along the way. Our journey was almost over but not quite.
In August we again arrived in Spain, this time it was to sign our Contract. Unfortunately, Richard was on annual leave in America but he had left Andrea to support us and she met up with us at the Notary's office. The deeds were duly signed and we became owners of our dream property in Spain.
We cannot thank Calida Properties and their staff enough. Special mention must go to Louise who has sent so many emails and made so many arrangements and connections. Likewise, Richard, Infectious in his approach, enthusiastic and energetic provided professional support, advice and invaluable guidance throughout the whole process. Not once did we put a foot wrong, not once were we left to stumble on our own, everything was extremely professional.
Thanks to Calida Properties, Richard, Louise, Andrea and Summer. We are now proud owners of a 3 bed, 2 bath villa with a Pool Spanish property in El Prado Arboleas and waiting to live our lives happily in Spain full time soon.
Finally, and in Spanish,
Gracias Richard, Louise, Andrea y Summer.
Tengo el gran placer a recomendar Calida Homes a todos nuestros amigos aquí en Inglaterra.
Jim y Sheila
Victor and Marion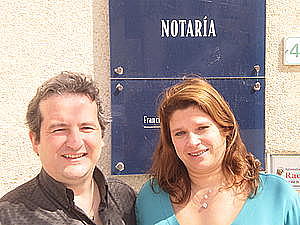 Back in February 2010 Victor Coronado, a Spanish national, and his wife of 14 years Marion who both live in Grimbergen Belgium finally took the plunge and made an offer for a Spanish property they had fallen in love with and been monitoring for many months via the internet.
They had visited Almeria the previous year and fallen in love with a particular area but wanted to organise their finances before making a serious commitment. The owner of the property they liked was called with the offer but just the day before he had accepted another offer, and what are the chances, from another Belgian couple. So back to the drawing board.Victor,43 and Marion, 42 both confess that losing the house they had been watching for months was a big blow.

They had decided over a very long period of time that all the pieces of the jigsaw had come together. They were able to take advantage of very low interest rates at home to organise finance, both had good jobs, Victor as a production operator for a specialist American owned paint company and Marion a long serving crew member with Thomas Cook Belgium. Prices in Spain had, they felt reached the lowest level and most importantly they wanted somewhere to spend holidays with their Children, twins Laura and Selina and the youngest Luna. As for most of us with families they were aware that times spent together on vaccation as a family are so precious and that in far to short a time, as the kids become young adults and want to do their own thing, stop being possible. Many at the stage of finding the perfect home and losing out give up but for Victor and Marion this wasn't an option.

They wanted a property that had stunning views, was spacious enough to accomodate the family,and in a peaceful location. A pool was a must have, The price had to be right and, hard to put into words, but the house and gardens had to feel right.

A day after losing the first option we sent details of another property based in Arboleas, Almeria. The details and usual photos were accompanied with a very useful video which allowed Victor and Marion to watch in comfort from home before taking the plunge and booking flights.
The house was lovely, and better than the one they had lost. A spacious, warm property that had been designed to the highest specifications with beautiful swimming pool and the views they wanted. Flights were booked, a viewing arranged and by the end of March Victor and Marion took possession. Here you can see them at the notary in Vera on day of Completion.

Vivienne and Andy Fearn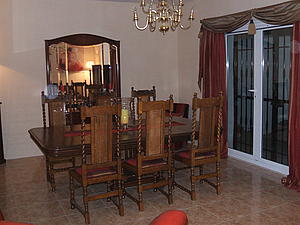 In the summer of 2013,i decided against buying another investment property in England,and thought about buying in Spain instead.I contacted two agents,one of which was Calida homes.I emailed both regularly to say when i would be coming to Spain and our requirements.I had regular phone calls from Rich (Calida) giving me information and letting me know when he would be available to do viewings with us.We made arrangements also with tthe other agent.Unfortunately when we arrived at their office--we were met with a notice on the door stating they were away for a long w/end!!Great start i thought--but went along to their office and had viewings with them.The next day it was Rich's day for viewings--complete contrast!Just so friendly and interested in what we were saying--he listened,took us to see the properties we had asked to view--whilst doing this,at various locations,we were met with different people calling out to Rich,stopping to chat etc--they told us they had bought properties from Calida via Rich.Our day was finished off by Rich stopping and showing a property that was not on our list. When we stopped outside it was a can we afford this moment??
\r\nWell what happened.We both loved it,and went back to see it again the next day and made an offer.\r\n
delighted to say we have now completed on the property,and have to say,Rich was amazing--sent us measurements of sofa's at the property,gave us details of a guy to move our stuff.I cannot say how fab this man is--nothing is too much trouble for him,he has looked after our interests extremely well,we realise how easy himself and our solicitor made everything for us,we would also like to say a big --thank you to Louise and Andrea who were always available to help and advise us when Rich was not there(which wasn't often!!) and lastly say a big -thanks to Rich's wife, I am sure she never gets to see him,but i am sure she also knows what a great guy he is.Look forward to seeing you all when we are out again on the 18th of Jan.
Marc and Chrisje Verniers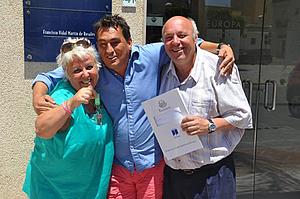 Marc and Chrisje Verniers from Sint-Katelijne-Waver already living for a long time on the Belgian coast in Knokke-Heist. Were newly retired and had been looking forward to a home for some years under the Spanish Sun. They were initially planning to reside on Tenerife but after lots of research eventually they chose for the Spanish mainland province of Almeria. The property on Tenerife were much more expensive, and the flight there a lot longer. They decided the quality of life is nowhere better than in Almeria. They were looking for a suitable location for many weeks to via the internet and decided to take the plane in March 2012 and to visist some properties with us. On the second day of their visit we found them a lovely detached villa with four bedrooms and a swimming pool in a quiet hamlet just outside Arboleas village that had lovely views of the countryside and the local rambla. In June 2012, the sale closed in Vera at the notary and in July they came, along with their granddaughter Senna, here for the first time on vacation. They allowed us to help them with the entire purchase process and are very satisfied with the service we provided. They want to establish themselves here permanently as soon as possible so they can enjoy the tranquillity and the Sun. Marc & Chrisje have become very good friends of everyone at our office.
Lynne and John Mepham-Dec 2016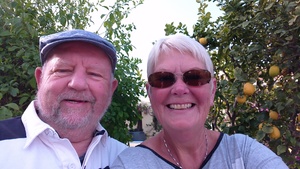 After selling our house in England within two days we decided to get on a plane and come to Almeria for four days to look at property. Bit of an impulsive decision as we'd never been to Spain before and other than watching television programmes on moving abroad, we had never even considered it as a possibility. We met with Richard who was so accommodating. We viewed many beautiful villas and although we had an idea in our head of what we imagined we were looking for, Richard listened to our 'wish list' and guided us through it, bringing to our attention some points we had never even thought of. A few weeks later we returned for a week with a much better idea of where we wanted to live. He and Wendy supported us through several viewings, highlighting positives and negatives regarding our needs. Nothing was too much trouble and their own love for life turned what could have been an extremely stressful time into a bit of an adventure. We finally decided on a property which was totally different to the original idea of what thought we would like and moved in on 1st December 2016. Yes it needs some TLC but we have time to make it 'OUR place in the sun'. Calida Homes were supportive and unbiased throughout and even though we are here now we can still call Vicky or Louise in the office for advice for silly things like 'how do we get to the post office'. They even organised a hire car for us until we get our own. Richard and Wendy not only helped us achieve our dream, they have become our friends. Our advice to anyone reading this is don t hesitate, call Calida speak to Richard and come over, see for yourself. They will take you through the whole process of moving here, not just buying the property but all the boring legal requirements. If you think about it too much you'll never do it. Thank goodness for being impulsive, it's the best thing we ever did. Thank you Calida from the bottom of our hearts for helping us achieve what we know is going to be a fabulous retirement.
Day at the notary
Even after many many years and countless property sales, there is still something very special about a day at the notary which results in friends and clients picking up the keys to their new home. After a lot of searching we were able to find Chrisje and Marc a super property just 80 mtrs from the lovely beach in Vera, Almeria. They are just moving in as we speak and huge congratulations to you both and we wish you many years of enjoyment form your new home.
Mickey and Hazel
Myself and my partner Hazel started our search for a property in Spain some time ago. During our search we made the decision that the Albox and Arboleas areas were where we wanted to settle so we looked at many estate agents and property consultants in these areas and made many appointments to view properties with several agents. Andrea and the team at Calida Homes were very helpful in the build up to our visit to the area to view properties. They maintained good contact and kept us informed of the availability of properties and new ones coming onto the market.
We flew out from the UK in July to view properties with several agents. Some we were not impressed with and were reluctant to agree to buy with these. Once we met Andrea we felt at ease and she listened to our wants and needs and found the ideal home for us. As soon as we saw it we both knew it was the one. During the purchase of our new home there were some problems with solicitors on both sides and Andrea stepped in to provide help and keep the process moving. This was above and beyond her role and I can not commend her enough for this. Because of the great service given by Calida Homes we are now settling into our new home three months after first seeing it and could not be happier.
I would happily recommend Calida Homes to anyone looking for a home in this area, in my opinion they are the leading and most friendly property consultants in this area. If you think you want to do it then do it and make Calida Homes top of your list of people to get in touch with.
Ingrid et Luc Longin – Sombreffe
En mai 2013 nous avons contacté Calida Homes par internet, car Ingrid a vu une maison qui lui plaisait.
Nous avons tout de suite été pris en charge par Richard qui a très vite compris quel type de résidence on souhaitait. Après avoir visualisé quelques maisons qu'il nous a présentées par mail, nous nous sommes rendus sur place en juillet.
Richard s'est chargé des réservations d'hôtel et a organisé dans les moindres détails une journée de visite de maisons. Seul souci : les propriétaires de la maison pour laquelle Ingrid avait eu un coup de cœur étaient absents. Mais tout au long de la journée, Richard n'a pas cessé d'essayer de les joindre et en fin d'après-midi nous avons pu la voir et maintenant …. c'est la nôtre, grâce à lui.
Beaucoup de Britanniques vivent dans la région, donc la nationalité de Richard est un atout supplémentaire quand il faut négocier
Richard a toujours été là pour conseiller, expliquer, il s'est décarcassé pour nous trouver un traducteur, un avocat, … il nous a pris en charge et ne nous a jamais lâchés même après la vente. Le service après-vente, c' est du sur mesure.
Quand on revient chez nous, Richard est là avec toute son équipe et ils répondent toujours présent.
Merci Rich.
Donna and Peter Coles
My partner and I were contemplating relocating to Spain for some time. We started to put those plans into action in September last year (2017). We found Calida Homes online and when in Arboleas we went in for a chat.
Andrea has since seen us through the process from start to finish, displaying the same high standard of professionalism throughout. The first two villas we viewed weren't exactly to our taste, but from then on, they were near perfect. On our second visit we found the villa for us. Since then Andrea has kept in regular contact and has been invaluable helping with the processes of buying in Spain, including aiding with solicitors.
Relocating is daunting, and whilst there have been complications with selling our house in the UK, Andrea and the team have eased a lot of the stresses at their end. We would highly recommend using Calida Homes.
Donna and Peter Coles.
Karl and Nathalie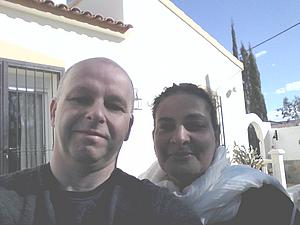 We first met Richard at the Brussels expo of the second home residence in September 2014 he had on site Ivan who is a local Belgian lawyer and who was available to answer any legal questions we may have had. We were so enthusiastic by their approach that Calida Homes was the only stand we visited. We had planned to travel to the region of Arboleas/Albox around November 2014 to go and check out the area and some of the villas. Calida Homes sent weekly newsletters with villas available in that region.
We knew very well what we were looking for, and so after a few exchanges of emails with Richard, he drew up a list of properties for us to visit. By the time we got to Arboleas we had no special intention of buying straight away but wanted more to get a feel of the life there and the houses that were on the market. After two days of visiting houses with Richard, he made us feel very comfortable, so much that we even decided to make an offer on one of the houses.
It is now early February 2015 and we have just spent five days in our new house in Arboleas, it is absolutely beautiful and we love it there.
Richard and Ivan make a great team together, and I would like to thank them both plus the entire team at Calida Homes. We will try and go there often, so we are bound to see you guys again very soon!
Thank you
Mary Darlington
We were hardly the easiest clients, but Andrea trekked around from property to property with us, and pulled out all the stops to arrange viewings and find as many suitable options as possible. She also helped us to arrange accommodation on our viewing visits, and is always on hand with advice and help. She has the patience of a saint and works incredibly hard to find her clients the ideal property. We found ours, and for us, the buying process was mostly painless and straightforward. Calida Homes are very professional and most importantly, honest, providing a fantastic service. We love our Spanish home and will spend as much time as possible there - thank you Andrea!
Kev Vallance 2016
Well, where do I start...

I came over to Spain for a short break in January 2016.
My life was changed... For the Best...

After two days I had seen and experienced enough to decide this is where I wanted to be. Put my house in the UK, on the market, and started drawing up a short list, (68), of viable properties in and around Arboleas.

With lots of help and advice from my new friends over here, and thanks to Calida Homes, I spent two days viewing, then made an offer that was accepted.

I moved in on the last day of September and haven't looked back.

There's plenty to do, Bars and Restaurants, Gym's and Bowling Alleys.
The Coast is less than an hour away, and there are plenty of Historical Towns and Villages to see.

I've taken up Mountain Biking again, and bought a Quad Bike for the Mountains. I have a Great Social life and many new friends.

The area is safe and there are plenty of signs of development, roads, infrastructure etc.
The Town Hall is very accessible with friendly staff.

I have retired over here at 57, no going back.
Luvvin It... Raahhh...
Kev
Clive and Jo
Clive & Jo Kershaw
We bought our amazing home in Spain through Calida Homes in October 2015.
After months and months of comprehensive research we finally cleared some time in our hectic schedules to visit the Almeria region. We had our list of potential properties and hoped that the time we had set aside would allow us to get a good feel for the area and confirm that this was the place for us.
Our first estate agent told us that the properties we were interested in were mostly sold or off the market for other reasons but gave us a lot of information, showed us the area and had a property that looked good for us. Agent number 2 didn't show up, number 3 only had one property to show us and we spent our last viewing day with Calida Homes.
Considering that we had varying experiences with estate agents at this point, from fabulous to not bothered, that we had seen a property we were interested in and that we woke up that morning with the thought that the day was merely a box ticking exercise; Andrea had quite the job ahead of her!
Andrea was lovely. We felt we were being shown around by a friend who was happy to chat to us and answer the any questions that arose, irrespective of whether they were property related (yes Clive can get a bacon butty locally!) She listened to our requirements, reviewed the potential list of properties and re-organised the viewing list to accommodate our ever increasing demands; making the day an absolute pleasure.
And view we did! Having seen people on television in tears when seeing the house of their dreams, being convinced that this was all acting and didn't happen in reality and certainly wouldn't happen to two savvy individuals like us …… well we saw our perfect home and the tears flowed! Everything else paled in comparison. Having such a visceral reaction to a property meant to us that we had to have it. Andrea was superb during the negotiations, she gave us solid advice and made the whole procedure very smooth and stress free.
The intervening months between the sale being agreed and the final signatures at the notary meant a lot more questions from us – all of which were answered quickly and efficiently. The final signing was smooth and efficient – with even more tears of course!
We can honestly say that from beginning to end Calida Homes have been professional, efficient and courteous. Every email, phone call and text was answered promptly and every promise fulfilled. Knowing that Andrea and the team are in Arboleas for when we make our permanent move next year is so reassuring – they are a mine of information and local knowledge, and not only this but they are the Property Fairies and can make your home in Spain wishes come true!
Brenda and Steve Partridge Nov 2016
Thank you to Andrea Hollings and the team at Calida Homes. The smiles say it all - thank you so much for your friendly, supportive and professional approach. Some work to do but we are sure it won't be long before we have our place in the sun exactly as we want it. Looking forward to relaxing in the sunshine enjoying the stunning views, particularly those dramatic sunsets
David and Lorraine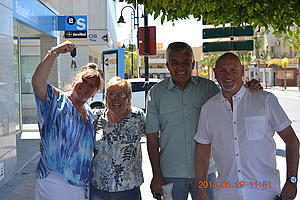 We have lived in Oldham for many years and visited Arboleas for the first time in Apr 2014. Friends of ours purchased a villa via Calida Homes last year and we popped over to see them in their new home. We immediately fell in love with the location, the relaxed lifestyle and of course the great weather. We were only with them a few days and decided we would very much like a property in the same location. Our friends had purchased via Calida Homes and found their service and after sales to be exceptional so they were the obvious choice/point of contact to help us in our search, Accompanied by our friends we met Richard at Calida who we felt we already knew having watched many videos, in which he chats, on the website beforehand. He sat with us beforehand, listened to what we wanted to achieve then personally selected a number of properties he knew would be suitable. Over a couple of days we viewed 8 or 9 properties and fell in love with one on particular just a short distance from Arboleas town centre. A really beautiful villa with pool and garage and importantly beautifully maintained and private. We had a few things to resolve in the UK but these moved quickly so a couple of weeks later we were able to make a formal offer which was accepted. In the build up and subsequently the advice and support we have received from the Calida Team has re enforced our decision to use them in the first instance. When it became known locally we were in the market for a property we were deluged with contacts via forums, emails etc trying to show us this, that and the other. We found a good long established agent with a long track record, numerous happy clients and stuck with them. We wanted a proper job and proper service but of course this splits both ways and to work you must give person you've tasked the opportunity to do their job properly. We weren't disappointed and in May 2014 we picked up the keys to our new home. Over the moon best describes the feeling and we look forward to many happy years here. Thanks Calida and see you soon.
Pippa Brown 2018
I had no previous knowledge about Spain or the Arboleas area and just decided to come over after seeing the beautiful hills on the TV programme Sun, Sea and selling houses. Came on a visit to the area and Andrea arranged for me to see a selection of villas. As I had not been to Spain before had no real idea of what was on my 'wish' list except for a large plot and a swimming pool (- although this list did start to grow once I had seen a few properties).
I can not believe how patient Andrea was with me......I thought I had found the 'perfect' place, I came back for a second viewing after saying that this is definitely the one etc etc only to find that it wasn't how I remembered it and wasn't right after all.
So, Andrea spent more time with me trying to find something that would fit the bill, even helping arrange to see properties which where listed with other agents!! She even made time to come on these viewings with me so she could be my 'sounding board' as by this time she probably had a better idea of what I wanted than I did!!!
Nothing was fitting the bill until she persuaded me to see a property that I had seen on the website but had discounted it as it looked too dark.....she was right to persuade me to view it as it was the home I was looking for.
She sat with me and we discussed an offer - she was always very honest about the value of a property and helped me secure it at a price which fitted my budget.
Andrea helped to ensure that the purchase went through smoothly and within the timeframes I was looking for and I am now settled in with the two dogs enjoying walking in the beautiful hills.
I can't thank Andrea enough for persuading me to look at this villa, for her never ending patience, honesty and support. If you are looking to buy a property in this beautiful area I wouldn't hesitate to recommend Andrea and Calida Homes.
First meeting of the Arboleas Petanque team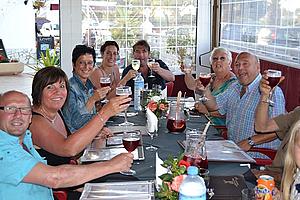 May 2013 at Pueblo Laguna bar and restaurant on Vera Playa saw the first team talk of the Arboleas Petanque team. The jet air flight was packed as founder members from all over Belgium, all home owners in Arboleas, flew in for this important date on the Arboleas social calender. The brain child of Mr Marc Verniers and Filip Buedts who wish to form a team of experienced and talented players capable of taking on the strong Belgian teams based in San Juan de Los Terreros.
The meeting started successfully enough but sadly. after one to many jugs of Sangria, lapsed into chaos.
Other members present Ursula Ludwigs, Christine Spaenjers, Chrisje Verniers Henderickx, Annick Verlinden and from Calida Homes Mr Richard Clarke are all accused of not taking things seriously. Another meeting will need to take place and hopefully on this occassion some progress will be made.
A full events calender will follow shortly but Sangria, Duvel and all other alcoholic beverages will be prohibited at any future meetings.
Serge Baguet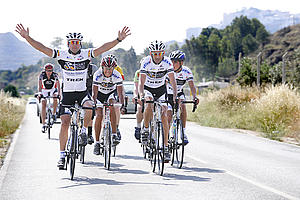 We would like to thank Serge Baguet , previous Belgian cycling Champion and his lovely wife Sandra for their continued support. Serge along with the Baguet Bicycle Centre are long time lovers of the beautiful Almeria coastline which they use as a base throughout the year for training and cycle holidays.
At the recent 2nd home Expo in Gent both Serge and Sandra both stopped by to say hello, sign posters and talk with other cycling enthusiasts who also attended.
Paul and Chantal Ramakers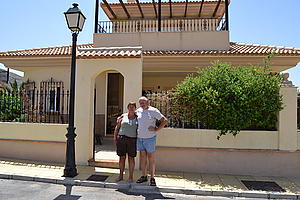 Paul and Chantal Rammakers from Brussels started looking at the possibilty of buying a property in mainland Spain back in 2010. At the time both were working in pressured jobs but retirement was looming and they very much wanted a 2nd home in Spain that they could come to escaping the cold and wet Belgian weather. As for many of our Belgian clients the pace of life at home was often to hectic and pressured so not only did they want some well earned sunshine but also to enjoy time together in an enviroment where the pace of life was considerably more tranquil. Paul a thoughtful and methodical guy spent many many hours reseraching possible Spanish locations on the internet. Malaga, The Costa Blanca came up for consideration but time and time again he kept coming back to Almeria. The great climate, the style of houses, peacfulness, wonderful countryside and of course the prices resulted in him and his wife Chantal coming to visit us on an inspection trip at the start of 2011. We took them to visit a number of different towns and properties but one situated in the very pretty town of Oria really caught their eye. It was a very high quality two storey villa that had a well kept garden, swimming pool and beautiful views. Better still despite being private it was a very easy walk to the town and the thought of being able to walk just up the road to a nice bar-cafe to enjoy a cold beer and some delicious tapas was what clinched the deal. The purchase went ahead smoothly but because of work commitments and the sellers wanting time to find another property in Spain it was negotiated to take place over a 10 month period. Paul and Chantal have now retired and in July 2012 arrived in Spain with two of their friends to enjoy their new home. Because the property had been empty for quite sometime of course some interior changes need making and the garden needs bringing back to its best but they are both enoying doing this work and making the house a home. Of course they are also making the most of the great weather and have many trips planned to visit other places in Spain. The picture shown is them at the gates of their Spanish dream. We wish them many years of happiness.
Tracy and Cliff 2016
We were first introduced to Calida Homes and Andrea in May last year when we first started looking at villas to purchase in the Arboleas area.

Andrea showed us around so many villas and was so patient, nothing was too much trouble for her, even showing us villas at the weekends.

We eventually found a villa in August of last year and the whole process of buying had completed by November.

Andrea answered any concerns I had and chased up the solicitors for us to.

Since buying the villa we have been out there every opportunity we have had (school holidays only because of the children).

Even now if there's anything I want to know I just message Andrea and she responds straight away and is so helpful.

I regard her as a friend now and wouldn't hesitate recommending Andrea and Calida Homes to anyone I know
Liz and Steve Hellewell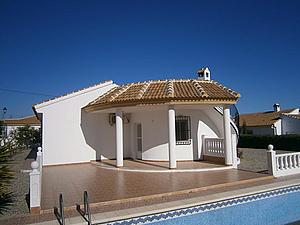 Steve and Liz Hellewell from East Yorkshire contacted us for viewings back in June 2013. After looking at a number of options, in terms of locations and property styles we were able to secure them this lovely villa. They picked up the keys at end of September. They kindly gave us the opportunity and more importantly the time to work with them closely until we were able to find the perfect villa. Thanks to you both and thanks for your kind words below ( even the Jack the lad bit) and there was me thinking I came across as rather refined… may you have many years of happiness and enjoyment in your new home.
Just a note to say
that we found Richard from Calida Homes to be
engaging..helpful..and full of the local knowledge that
was needed for us to find our perfect home in this lovely
area..and as we look forward to making this our home...we
know we can trust Richard to guide us through the questions
that we have to make this transition complete...In this huge
leap we have made..we know that Richard can be trusted and
his Jack the Lad image is one to have complete faith in.
come and enjoy the different world that we have found..and enjoy life.
Steve and Liz


Ricky and Tania Alpaerts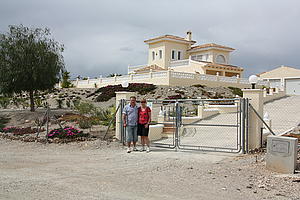 \r\n
We are a married couple with two children, one son, he's 25 and one daughter she's 22. They both now live on their own now with girlfriend and boyfriend.
\r\n
We had been thinking of buying a property in Spain for a few years. We owned a second home in Belgium close to the beach, but as all will be aware, there's not
\r\n
much sun in Belgium and it's a rainy country. Ricky wanted to sell our beach flat for years, but I wasn't much into it. Than we went to "second home" in Gent and we met Richard from Calida homes. He was the only one who could convince us to visit some properties in Almeria as his company had some fantastic properties at very good prices. Together with some friends we made the journey in April of 2013. We got a friendly welcome and we immediatly felt at home. We were suprised to find so many Flemish speaking people over there. Ricky new exactly which property he wanted as before we got to Spain Calida Homes sent videos of all the properties and Google street view of ones we liked.. Of course the reality was more beautifull. Richard is a reliable person and he will help as much as he can. So we purchased.
\r\n
our dream house, it's the one in the picture, and even our friends bought their dream house as they liked the location so much. All paperwork is done by a Dutch lawyer, Rianne, who lives in Spain for many years now. Hopefully we will get to enjoy our "House under the sun" for may years to come. Viva Espana, viva Costa Calida(homes). Thank you Rich !
Guy and Annick Deplancke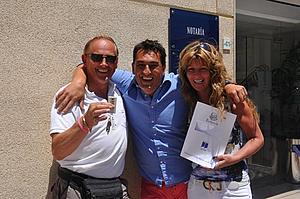 Guy and Annick Deplancke heard about property in Almeria via good friends who had already purchased a house here. They came over on a flight from Charleroi airport into Alicante in May this year. They had been considering a 2nd home in Spain for sometime and had considered a number of differet locations including Tenerife.
We were given a list of their requirements, in terms of the type of property they required, and on arrival were able to show them a good selection of quality detached villas within their budget.
They wanted a high quality, very spacious villa that was private and enoyed lovely views.
After two days of viewings Guy and Annick decided on a beautiful 170 mtr villa with pool and garage Just outside of the pretty market town, Arboleas.
This was back in May and they have since completed on the purchase and will be arriving mid July for their first family holiday.
We helped them with every step of the process. Finding the property, organsisings, lawyes, banks even shopping for furniture. Curently we are organising works converting their garage into a large 4th bedroom.
Guy and Annick are a truly wonderful, cheerful and hard working couple who are delighted with their new home in Almeria. Clients first but now good friends.
Steve and Maureen Barratt
After Steven having a heart attack 3 years ago we decided life is too short and to fulfil our lifelong dream of owning a property in Spain.
We cannot recommend Andrea and her team at Calida Homes enough for their help and support during this process.
We travelled out to Almeria on quite a few occasions and viewed a lot of properties before finally finding our dream home.
Andrea had the patience of a saint with us and did everything she could to ensure that we finally found the right property at the right price, she really worked hard and went above and beyond for us.
We now finally have our dream holiday home in Arboleas which is more than we could have ever imagined, we are over the moon and cannot wait to spend lots of fantastic holidays out here with our family and especially our four beautiful grandsons.
Thank you so much Andrea you really did a great job and we hope to see you out in Arboleas soon!!
Steve & Maureen
Anne and John Reid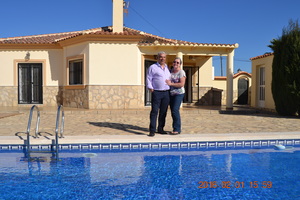 We would like to thank the great team at Calida Homes for making our dream of owning a retirement property in Spain a reality and for making every step of the process from locating the property to moving over a smooth and very enjoyable experience.
The miserable UK weather, astronomical cost of living and silly pace of life had us dreaming and trawling the internet constantly looking at some lovely homes in Southern Spain. Last year, 2015, we decided enough is enough and contacted Calida Homes. They had come recommended to us, always a good thing, by a friend who had purchased with them last year.
Very quickly, after listening to our requirements, they were able to send over some super options all of which looked perfect. With the use of their videos for each property, which we found so useful, we were able to put together a shortlist that we came over to view in October.
Richard and the team at Calida organised all our hotel, all the viewings and lots of information on the areas, property running costs etc. They adopted a patient, professional yet non pushy approach the end result we found a villa which was absolutely perfect. Funnily enough, thanks again to the videos, we had a real favourite before we even arrived and this is the one we went for.
We received comprehensive assistance over the completion period, legal advice and regular progress reports.
At the notary in Vera, with Calida, we signed the deeds and picked up the keys to our new home in Jan this year. We couldn't be happier and thanks to all at Calida for all you have done.
Visit to Antwerp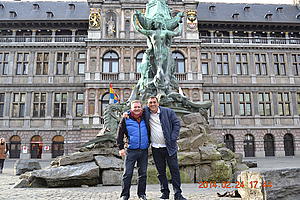 Many thanks to our good friend Mr Rik Alpaerts for yesterday showing us around the very beautiful city of Antwerp. We walked a tunnel under the river, took a tram, sampled the world best beer, visited he amazing Chocolate Line and a lot more. Rik a great guide and will certainly be back to Antwerp soon.
Gill and Vaughan Williams
It had always been our dream to retire to Spain. Thanks to Calida Homes and our agent, Andrea, we are doing just that.
We looked at numerous properties and are now living in the lovely village of Arboleas. We couldnt be happier.
Nothing was too much trouble and no matter what time of day or how silly the question we always had a prompt reply.
Although we have been here two months Calida Homes are still there for us. I can truly say they have become friends and not just estate agents.
Steve and Angie Nutter 2017
We are sitting here in our Beautiful villa in Cantoria, Almeria, which we wouldn't of found without the help & support of Calida Homes.
The assistance & patience of Andrea driving us around the area looking at properties, was invaluable. She answered & still is answering our many questions, some of seem silly at the time, but she still had an answer.
We would like to take this opportunity to thank Andrea & the team at Calida homes & would thoroughly recommended them to anyone wishing to purchase in the area.
Steve & Ang
Nicolas and Marijke
We are Nicolas & Marijke Deinze.
\r\nAbout twelve years ago we started our search to find a villa or some building land in Spain. This really stayed on the back burner whilst we were building our dream home in Belgium. Somewhat coincidentally, this year we went to the second home show in Ghent. There we met Marc Verniers and Calida Homes.\r\nOnce home, we looked on Calida Homes website.and found a number of houses that were to our taste, but above our budget. A week later we were sent details of a villa shich loooked like the house of our dreams, see picture, ... The price was reduced to a level we could afford.. We decided to go and view so immediately travelled to Arboleas.\r\nWe had both nerves as we had heard so many cowboy stories .... We were happy to met by Andrea from Calida Homes. and also Marc came along to help with translations and an understanding of the location. When we got to Arboleas it was love at first sight and when we saw the villa we knew we had made the right desicion. That weekend we decided that we would buy it immediately.\r\nAfter some back and forth e-mailing, we again travelled to Spain in May to close the deal.The team at Calida, Marc and Ivan on the legals were so helpful and informative with every step of the process.We will be back in June to spend time in our new home and can't wait.\r\n \r\nAndrea and Richard at Calida homes received us very well. Answering our questions immediately.\r\nWe want to thank everyone Andrea, Richard, Marc and Ivan, who helped us with our case.\r\nWe hope to spend a lot of our holidays in our new home and alos our parents now have a warm place to spend the winter as it's so cold in Belgium. We see this as a good investment for our children later in life,.
Ken and Trish Mar 2017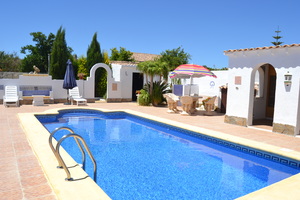 My Wife and I are now living the dream having purchased our new Villa from Calida Homes. We found Richard and his team extremly knowledgeble and very helpful guiding us with our search. They went out of there way to show us around the surrounding areas, expalining the many features and benifits the location had to offer.
They made the buying process extremely easy and hassle free. We cannot speak too highly of them and would have absolutely no hesitation in reccommending them. Ken & Trish Los Menchones.
Well Done Calida Homes!
Angela Curran
We are relocating from Scotland to Spain later this year and bringing all 12 of our dogs with us!! As you might imagine we had a very specific wish list for our new home and contacted a number of estate agents. We were flooded with suggestions and having waded through them all created a shortlist for our visit. Andrea kept in touch and offered words of wisdom, but no pressure, throughout our contact with Calida. We knew as soon as we went into the house we eventually bought it was the one for us, and were fortunate enough to have our offer accepted with Andrea managing the process of negotiation very sensitively.
Andrea has been immensely helpful to us since then, answering all the "daft" questions we asked from the number of electrical sockets to the width of the staircase! She responds quickly to calls and emails and will always to her best to help. She has been so supportive and absorbed the tension when stress levels were creeping up, as they inevitably do when folks are making life changing decisions! We would want to offer her and the rest of the staff at Calida our heartfelt gratitude for helping us to manage the whole range of emotions associated with buying a house abroad and being there to celebrate the completion at the Notary's office - we will never forget that moment! One of our friends has photshopped a picture of our new home and added a few personal touches - it made us smile and we hope it does the same for you!! Bien hecho y gracias Andrea y Calida!!! Angela & Janice
Pam and Jeremy Legg
As first time buyers in Spain the whole experience looked a bit daunting......so many questions, so many concerns, so many ifs and buts ! Then we met Andrea at Calida Homes. Right from the start Andrea was there to guide us through the whole process with an abundance of knowledge, not only of the purchasing process but has so much local knowledge that we felt comfortable in placing our trust in Calida Homes. Even back in the UK Andrea kept in touch ...patiently answering our hundreds of questions ! At no point did we feel under pressure to proceed .....some sales folk can be very pushy, but thankfully that wasn't the case. So eventually we purchased our dream home in the sun, picked up the keys from Andrea this week......then the added bonus of €500 in cash (to be honest we had completely forgotten about that !) Thanks Calida Homes the money won't go to waste on too much sangria ! Pam & Jeremy Legg
Philip and Annette Bell Oct 2016
Our names are Philip & Annette, in May 2016 we decided that we had enough of the dreary mornings , the traffic and work so decided to take early retirement and head for warmer climes.
Putting our house up for sale we headed to Spain , having never been here before we were pleasantly surprised at how friendly the people were and how nice the country was.
Our friends recommended the Almeria area and after trawling the internet for a few weeks came across Calida Homes. Right from our first contact we felt at ease, their friendly approach and sensible questioning made us feel they were the right agents to find us our new home.
We came over in June and met with Andrea and the team, for the next few days we were shown properties that fell within our price range and what we had listed as "wanted" a stunning view being at the top.. Andrea was the consummate professional and after opening the properties allowed us to wander around for as long as we wanted but never to far away to answer questions. We never felt that anything was to much trouble and in typical "place in the sun" style Andrea came up with the perfect property suiting our needs.
I am writing this on the eve of moving into our new home ( 26/9/16). Yes the paperwork can seem quite daunting however Andrea and the girls in the office are only to willing to offer help and advise. Our questions ranged from, " where can l get a Spanish sim card, furniture, supermarkets, hairdresser and restaurants etc.etc etc."
I very rarely feel the need to write a recommendation as its not often that something exceeds your expectations. This is one of those rare occasions. So if you feel as we did and its time to leave the rat race l can only offer my advice and hopefully point you in the right direction.
Philip
PS: The views we are going to wake up to each morning are "spectacular". ...